Harvey H Lowrey High School
Class Of 1969
In Memory
Richard Casteel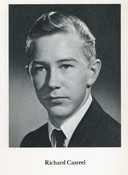 Holly Kent, is the daughter of Richard Casteel and Brenda Britt. Below is her posting from Richard's page on Classmates.Com:

"I have a brother also and he is identical to my father.

I just wanted to re-connect with some of his classmates to find out more about who he was. My brother and I never had the chance to get to know him as all of you did. I was almost 3 when he died and my brother just a little over a year.

Honestly? any little story that you have would be great and also very helpful."
If you have a story or experience you could share with Richard's daughter you may contact her at hkent425@yahoo.com.